This post may contain affiliate links. By clicking and making a purchase through the links, I earn a small commission at no extra cost to you. This and display ads allows me to keep the site up to date and give back. Thanks for reading!
There's something about a brand new year that makes me so excited for new adventures. With so many amazing destinations out there, I can't wait to see where my travels will take me in 2020! To help inspire your travel plans for the upcoming year, I've asked some fellow travel bloggers to help me come up with the best destinations to travel for each month of the year in 2020.
From the northern lights in Alaska to sunsets in Brazil, these recommendations will have you booking a ticket and packing your bags. If you already know when you want to travel this year, jump ahead to see the best places to go for that month.
Can't read this right now? Pin it for later!
Best Places to Travel in January 2020
Costa Rica
If you want to escape the cold and be in the sun, then Costa Rica is the perfect destination to head in January. This time of year coincides with the dry season, when the weather is warm and perfect for outdoor adventures.
Costa Rica is the perfect destination for outdoor adventure seekers, offering many activities such as surfing, hiking, wildlife viewing, and canyoning. If you want a beach-centric vacation, then head to the Nicoya Peninsula on the Pacific Coast which is lined with beautiful beach towns.
For more adventure, check out La Fortuna where you can go rappelling down waterfalls, river rafting, or hiking around a volcano. Monteverde is another popular destination for adventure seekers, where you can zip-line through the cloud forest or go horseback riding through the mountains. I'm heading back to Costa Rica this month and I can't wait!
Melbourne, Australia
Recommended by Kimmie Conner of Adventures & Sunsets Blog
Melbourne is in the height of summer in January, and a city that is lively all year comes even more alive in January. Although always fickle, the weather is generally the warmest and most pleasant in January. This month is when a lot of events, festivals, and activities go on in Melbourne.
There are so many places to visit in and around Melbourne to make it a great place to spend even a few weeks. The highlights of Melbourne are the coffee scene (some say the best in the world), amazing food and drink, culture, art, music (one of the live music capitals of the world), nightlife, history, and great day trips to beaches and National Parks as well. It's the perfect destination for every type of traveler!
Norway
Recommended by Jo of Backpack and Bushcraft
Norway is a beautiful country all year round but in winter it is truly breathtaking. Huge snowcapped mountains, blanket-white villages and picture-perfect homes with roaring log fires inside.
There are fewer tourists around in January and this results in an authentic experience of a peaceful country with magnificent landscapes. Furthermore, it is easy to book your own Norway in a Nutshell tour from the bustling city of Oslo to the beautiful harbor city of Bergen.
Snow-covered forests stretch on for miles and mountain peaks loom high in the sky. The world's best train journey, the flam express, takes you to beautiful Flåm where you can access the fiords. A tour by ferry will have you captivated and provide moments you will never forget. Norway is an amazing country to visit in winter and that's without mentioning the northern lights.
Best Places to Travel in February 2020
Florida Gulf Coast, United States
Recommended by Charles McCool of McCool Travel
Snowbirds are smart. When the weather turns cold, birds (and people, including me!) flock south to the Florida Gulf Coast. February is a perfect month to swim with manatees in Crystal River Florida, as winter is when hundreds of them gather there. While your northeast USA family and friends are bundled up and shoveling out from the latest storm, the only ice you will see is in your rum drink. I like to practice my JOMO with liquid road trip adventures (kayaking), bike rides to farmers markets, al fresco dining, long morning strolls in the luscious sugar sand, and glorious nightly sunsets (with said rum drink in hand).
New Orleans, United States
Recommended by Stella of Around The World In 24 Hours
New Orleans, Louisiana is undoubtedly the greatest city in the world to visit during February. This is because of the biggest party of the year in the Big Easy: Mardi Gras, which almost always falls during February. Mardi Gras, which is French for Fat Tuesday, is the final day before the holiday of Lent, the season of fasting and repentance. New Orleans gets ready to give up pleasures like meat and alcohol for Lent by partying all Mardi Gras long.
The Mardi Gras parties in New Orleans last from just after New Year's to the day of Mardi Gras itself. There are many Mardi Gras societies in the city, known as Krewes, that throw elaborate masked balls and lead the famous giant floats during the Mardi Gras parade. It's a tradition for the floats to throw gifts at the crowd. Most Krewes just throw beads in the Mardi Gras colors of purple, gold, and green. But if you're very lucky, you can get a special throw like one of the shoes thrown by the all-female Krewe, Muses. As we like to say in New Orleans, "Laissez les bons temps rouler, cher!"
Rio de Janeiro, Brazil
Recommended by Candy Pilar Godoy of Boogie The Pug
Rio de Janeiro is at its best during the month of February. While it's cold and dreary in the Northern Hemisphere, the Southern one is heating up. In February the city is buzzing with activity and excitement in anticipation of Carnaval. Live music can be found all over the streets and people spend all day and night outside. It's summer in the city, and the high temperatures make for perfect beach days. Pack your swimsuit, sunblock, and get ready for cold coconuts, sandy beaches, and the largest metropolitan rainforest in the world.
Best Places to Travel in March 2020
Bhutan
Recommended by Trijit Mallick of Budget Travel Buff
Bhutan is a little South-East Asian country with its beautiful landscapes, stunning mountains, lively rivers, and cultural heritage. This Carbon Negative country is also known as the Land of the Thunder Dragon.
However, getting to Bhutan is not easy if you come from western countries. Bhutan Airlines and Druk Air- these are two official airlines in Bhutan that operate flights to and from Bhutan. Direct flights are available only from India, Thailand, Singapore, Bangladesh, and Nepal.
Being a mountain country the peak time to visit Bhutan is from April to mid-June. But I will recommend you to travel Bhutan in March when the temperature is not too cold to travel and Bhutan offers the best scenic view with snow-capped mountains and lush green valley. Above all, March is the month when you find this beautiful country less crowded and can travel Bhutan on a budget.
When you are making a plan for Bhutan trip you cannot skip major three cities-Thimpu, Paro, Punakha. Paro is the main reason to visit Bhutan in March. It is the most visited place in Bhutan located at an elevation of 2200 meters. In a Winter morning, you can enjoy a clear panoramic view of the wide mountain range. If you are snow lover then don't miss Chelela Pass, the highest motorable pass in Bhutan. It has some amazing views of Himalayas and especially Mt. Jhomolari, Bhutan's most sacred peak at over 22000 feet.
New Zealand
Recommended by Nina Ragusa of Where in the World is Nina
New Zealand can be enjoyed pretty much year-round but there are certain times that are better than others. If you come in winter, that's June- August for my Northern Hemisphere friends, you'll be battling temperatures a low as -10 degrees C (14 degrees F). If you're here when it's that cold, I'm hoping you're here for winter sports! If not, you may consider coming around December, January, or February and those are excellent weather months to visit but you won't be alone, that's for sure. Those are going to be peak summer months for New Zealand, as well as holiday months.
So when is the best time to visit? March is a great choice because you'll still have some great weather, around 18 – 25 degrees Celsius (64 – 77 degrees Fahrenheit). While it may be a bit rainy in March in places like Queenstown or Wellington, the weather will be pretty good overall. And you won't have to share your space with tons of other tourists! Although let's be real, New Zealand is no secret!
It's worth noting, though, that New Zealand's weather is pretty psycho and you can have multiple seasons in a day-no matter when you come. The weather can be unpredictable particularly if you're doing any alpine hikes. So on your New Zealand trip, it would be wise to still bring your bikini for a dip at a beach in Abel Tasman, a rain jacket for the ever wet Milford Sound, and your hiking jacket for exploring Mount Cook!
Uzbekistan
Recommended by Ellis from Backpack Adventures
Uzbekistan is one of the best destinations to visit in March 2020. The country has just introduced a visa-free regime for most nationalities allowing you to travel back to the days of the ancient Silk road. Cities like Samarkand, Khiva, and Bukhara with its turquoise mosques and madrassahs and bustling bazaars are a unique experience.
March is the best time to visit Uzbekistan. With spring around the corner, the cold days are over and temperatures are just perfect before the stifling summer heat begins. March is also the time that Uzbekistan celebrates Nowruz. One of the biggest festivals in Central Asia welcoming spring and the Persian New year. Although the official date is around the 21st of March there are festivities in the country throughout the month.
Best Places to Visit in April 2020
Amsterdam, Netherlands
Recommended by Samantha Karen from Sam Sees World
April is, without a doubt, the best time to visit Amsterdam. This is because April is the month where the infamous Dutch tulips are in full bloom and can be found all around the city and outside of it. In April, you will find tulips all around Amsterdam! The city is lit up with colorful, vibrant flowers just waiting to be admired. Plus, just a short distance outside of Amsterdam are the tulip fields that are beyond gorgeous.
Also, during April, the weather is mild and sunny, and there are far fewer tourists than in the summer months. Therefore, if you are a flower lover or want to visit Amsterdam when the weather is idyllic, and there are fewer people, April is the perfect time to go.
Orkney Islands, Scotland
Recommended by Helena of Through an Aussie's Eyes
The Orkney Islands is an archipelago north of mainland Scotland that is every history lovers' dream. The Orkneys have Neolithic and Iron Age sites scattered across the different islands with a sprinkling of Viking history. Visiting the Tomb of the Eagles, Skara Brae, Maeshowe and the Ring of Brodgar will make you feel like you've gone back in time. If you prefer more modern history than you need to see the Ness Battery and Scapa Flow. These sites played significant roles during the World Wars.
April is the best time to visit as the howling winds have died down and the sun has started to shine out across the historic sites. The landscape of the Orkneys is beautiful with its rolling green hills and dramatic sea-cliffs. You might even spot a puffin if you are lucky!
Patagonia – Argentina/Chile
As far as hiking destinations go, it doesn't get better than Patagonia. Split between Chile and Argentina, the amount of beauty in this region is unparalleled. Think epic mountains, lakes, and more hiking trails then you could ever conquer.
Patagonia is one of the best destinations to visit in April 2020 as it will be shoulder season, meaning the weather is still temperate but you won't be sharing the trails with as many other visitors. It's also when the fall foliage comes out, which make the landscapes even more stunning.
There are so many beautiful places to explore in Patagonia but some of the favorite spots are Torres Del Paine National Park, El Chalten, El Calafate, and Ushuaia.
Best Places to Travel in May 2020
Algarve, Portugal
Recommended by Sarah Vanheel of CosmopoliClan
The Portuguese Algarve is renowned for its golden beaches, stunning scenery and historic cities. Enjoying this natural beauty in late spring allows you to travel deeper, beating both the crowds and the sweltering summer heat. Sure, you can work on your tan at one of the Algarve's golden beaches. But thanks to the mild temperatures, you can easily spice up your beach vacay with some outdoor activities as well.
May is the perfect time to hike amidst a landscape of wildflowers, to visit the many cultural highlights in cities such as Faro and Lagos, to kayak along the towering cliffs to the popular Benagil cave and to surf on the rolling Atlantic waves. After a day of Portuguese adventures, you can enjoy a moment of bliss in one of the region's exquisite resorts. After all, the affordable accommodation prices in May easily allow you to add some luxury to your stay in the Algarve.
Rome, Italy
Recommended by Claudia Tavani of My Adventures Across The World
The first two weeks of May are just about the perfect time to visit Rome. It's still shoulder season, which means that you may still be able to get some good deals on flights and accommodation. More importantly so, with longer, warmer days and the summer schedule already applied for all attractions, it means you will have more time to go sightseeing. Yet, as summer hasn't arrived yet, the crowds are less than those you'd get between June and September; and you will be able to fully enjoy the main tourist attractions such as the Vatican and the Sistine Chapel and the Colosseum (though I'd still recommend booking your visit in advance).
Tokyo, Japan
Recommended by Sydney from A World in Reach
If you're looking for the best places to travel in May 2020, look no further than Tokyo, Japan. With incredible culture, delicious food, unique festivals, and tons of things to do, your May visit to Tokyo will be full of excitement.
When planning a trip to Tokyo in May, make sure to plan around Golden Week, a week of Japanese holidays that occur during the beginning of May. During this time, flight and hotel prices may be considerably higher, so plan your trip for mid- to late-May. Additionally, Golden Week brings large crowds of domestic tourists to Tokyo, so the city will be less crowded after the holiday is over.
One of the best reasons to visit Tokyo in May is to experience Sanja Matsuri. This festival is one of the most exciting in Japan and should definitely be added to your Tokyo bucket list. Sanja Matsuri is a Shinto festival held at the beautiful Asakusa shrine which celebrates the founders of Tokyo's Senso-ji Temple. During the festival, vendors will be set up selling delicious street food around the shrine and parades with portable shrines, lots of music, and dancing will make their way throughout the streets surrounding the shrine. Visiting during Sanja Matsuri is an exciting way to experience the culture of the city.
Best Places to Travel in June 2020
Albanian Riviera, Albania
Recommended by Anita of Travelling Balkans
The Albanian Riviera is one of the most incredible destinations to visit within Europe and one that is still relatively unknown to most people. The Riviera stretches from the city of Vlora, south to the city of Saranda and hosts some of the most incredible beaches. This is undoubtably one of the best places to visit in Albania. Not only that but expect the freshest seafood, the coolest beach clubs and historic sites such as Porto Palermo castle and Borsh castle.
June is the perfect time to visit because the touristy spots are still not full as the country prepares for the busy summer season which starts in July. The weather is perfect, around 30 degrees already so enjoy the country in the warmer weather without the mass crowds (yet).
Iceland
Iceland is a popular year-round destination and by far one of the best places to travel in June 2020.
June 21st is the summer solstice, and since Iceland is so far North, you'll have almost 24 hours of daylight! Although the sun does technically set, it rises again so quickly that you're only left with hours of beautiful twilight. With so much daylight, you don't have to worry about running out of time to explore Iceland's beautiful landscapes.
More to that, there is a Secret Solstice festival in Reykjavik during the weekend of the summer solstice, where you can dance away the night in daylight with new friends from all over the world. And as far as weather goes in Iceland, June is a pretty safe bet. It also happens to be when the lupins are in full bloom, which are absolutely stunning to see.
Tanzania, Afrca
Recommended by Albi of Ginger Around The Globe
Tanzania is one of the main travel destinations in Africa and there is a good reason for it. Tanzania has a lot of beauty from great wildlife to white sand beaches made for relaxing.
What is so special about Tanzania in June, you may ask. First of all, it is the first month of the dry season in Tanzania. That means that animals are easier to see and you may witness the great migration of several species. Another great thing about Tanzania in this time of year is that it's directly after the rain season, which means there's still not many tourists and prices are generally lower. That also means that going around Tanzania is easier cause local airlines will have lower prices. Generally, June is a great month for enjoying the country.
Best Places to Travel in July 2020
Banff, Canada
Recommended by Zach & Julie Ruhl of Ruhls of the Road
Banff National Park is an absolute dream destination. Moraine Lake and Lake Louise are two of the prettiest bodies of water on planet earth, and the hikes in Banff through the Canadian Rockies are full of wilderness and adventure. But when should you visit Banff? The answer is July.
July will give you incredible weather in addition to those beautiful sites and will leave you with a sense of awe in how beautiful a single place can truly be.
When you visit Banff, you have to remember that you are heading to Canada, which isn't known for warmth. Don't get us wrong, the Canadian Summertime is gorgeous, which is why Banff is one of the best places to visit in July 2020. The temperature hits the 70s on most days, so you'll be comfortable in short sleeves and shorts when you hit the trails. Come to Banff in July and have the adventure of a lifetime!
Belgrade, Serbia
Recommended by Catrina of 24 Hours Layover
The month of July is the perfect time to visit Belgrade, Serbia's vibrant capital. The days are long, the nights are warm and the streets are buzzing with energy! Not only this, but there are parties on the splavovi (boats permanently moored along the river) every night of the week during the summer!
The city is compact enough that you can easily explore Belgrade by foot in the warmer summer months, from the pedestrianized Knez Mihailova shopping street to St Sava Cathedral: the nation's treasure and the Balkan's largest Orthodox Cathedral. Or you can enjoy the city from a different perspective and take a boat ride along the confluence of the Sava and Danube rivers. Later join the locals and watch the sunset at the Belgrade Fortress, then head down to 'Skadarlija' for bohemian vibes, traditional Serbian food and a chance to see the locals dancing and singing!
Hawaii, United States
Recommended by Noel of This Hawaii Life
Hawaii in July is the ideal time frame to visit the various islands with perfect summer weather, lots of summer events and free festivals and fantastic outdoor activities you can do in the month. Each island is uniquely different and fun to explore if you have time to visit two or three islands, but the main landing hub to Hawaii is typically Honolulu with most of the flights arriving at the capital city.
A popular starting off point Honolulu and Waikiki are fun, family-friendly with lots to do for all different age groups. If you like culture and history, there are lots of fun and cool attractions including the only historical palace in the United States open for the public to visit. Lots of water adventures, outdoor activities like hiking, sailing, climbing to easy pursuits like walking famous Kalakaua Blvd or the beaches at Waikiki. Even the food here is an international flavor with various influences of the plantation farmers, native foods and fusion flavors in the street food, bars to fine dining venues around the island.
For more inspiration, check out my post on top things to do in Honolulu and Oahu here for ideas and images of fun things you can do around the island. Book your trip in July to Hawaii and you'll have a fantastic summer vacation.
Best Places to Travel in August 2020
Copenhagen, Denmark
Recommended by Derek and Mike of Everything Copenhagen
If you're exploring new destinations in 2020, check out Copenhagen! The Danish capital is often passed by for other capitals in Europe, but it's packed with things to do and see.
August is the perfect time to jump into the iconic sites and exciting attractions in Copenhagen. Visit Nyhavn harbor for the most photographed canal in Scandinavia. August is also a great time to enjoy Copenhagen's harbor pools and pristine beaches. There's only a short window of time for beach-weather in Denmark, so August is ideal. In fact, the weather is warm and the days are still long.
Copenhagen is one of the best places to travel in August 2020 as the city swells with visitors from all over Denmark and the world to experience Copenhagen Pride. The enormous street party is a grand celebration of tolerance and diversity by the Danish people. There are so many things to enjoy about Copenhagen in August, find out for yourself in 2020.
Poland
Recommended by Holly from Four Around the World
Any time of the year is a great time to visit Poland, however, if you want great weather, August is one of our favorite times to go. You will get warmer days and sunshine as their summer nears an end.
Poland is an affordable destination to visit, with beautiful buildings, scenery, and extensive history. There is something for everyone. And in August, you can enjoy the sprawling gardens in each of the cities, without worrying about the freezing cold weather.
Warsaw is a bustling city with a contrast between their old town and modern growing city. For more picturesque places, Krakow, Zakopane, and Gdansk are our favorites. A visit to the coastline may even give you a chance to go swimming on warmer days!
Minsk, Belarus
Recommended by Wendy Werneth of The Nomadic Vegan
So many other cities in Europe are unbearably hot and overcrowded with tourists in August, but in Minsk, it's the perfect time for a visit. High temperatures are around 24 degrees Celsius, making it just warm enough to enjoy all the fun outdoor activities that fill the calendar at this time of year. From open-air cinemas to outdoor dance parties, Minsk really comes alive in summer after the long winter hibernation.
Post-Soviet Minsk is an intriguing place to explore, with juxtapositions of the old and new eras at every turn. Like the huge Communist sculpture that sits above a KFC fast food restaurant. And speaking of restaurants, Minsk also has an eclectic dining scene that caters to all tastes and diets, including vegan and vegetarian.
Best Places to Travel in September 2020
Brisbane, Australia
Recommended by Danielle Mathie from Stuff It Go Traveling
September is not only the start of spring in Brisbane, but it's when the city comes alive as it hosts some of the hottest events.
Kicking off the month is the city's biggest event, the Brisbane Festival, which runs for over three weeks. This international arts festival offers a variety of shows and cultural events from music, theatre, dance, opera, and circus.
Best of all, on the final day, it hosts Riverfire, a free family-friendly event celebrating the city and its river. Over 500,000 people attend to see the spectacular 20-minute fireworks show with the Australian Defence Force provide fly-pasts and aerobatic displays.
But that's not all the city offers in September with other must-do events including the Moreton Bay Food and Wine Festival, Big Sound and the Chinese Moon Festival. It's also the best time to go whale watching as the mothers and new calves migrate south.
Costa Del Sol, Spain
Recommended by Linn Haglund of Brainy Backpackers
Costa del Sol is a great place to travel in September. While most tourists are gone in a region that experiences overtourism in the summer months, the weather is perfect for enjoying empty beaches and river walks through canyons like Guadalmina or Rio Chillar. From the heart of Costa del Sol, there are plenty of adventurous day trips from Malaga, like hiking the highest peak of mainland Spain, scuba-diving in Nerja, and kite surfing in Tarifa.
While most tourists have returned back to their homes, the accommodation prices also go slightly down which makes it affordable to stay at Costa del Sol. You will also find the locals are more relaxed as they too enjoy the many activities the area has to offer.
Croatia
Recommended by Christina of Live a Wilder Life
September is hands down the best time of the year to visit our favorite place in the world, Croatia. At one time, Croatia was an off the beaten path destination mostly traveled by fellow Europeans who knew of the magical beauty that Croatia offers. Now, it's on everyone's "must-do" list. Not hard to see why when it offers amazing cuisine, gorgeous turquoise beaches, and the dazzling medieval city of Dubrovnik.
Unfortunately, with this huge influx of visitors, comes overcrowding and jacked up prices. Due to the nature of Croatia being an old European country with small cobblestone streets and thin alleyways, crowds can really diminish your experience. Visiting during the offseason is a must-do to fully enjoy this gem of a country.
Croatia is one of the best places to travel in September 2020 because the weather is still hot enough to enjoy swimming in the Adriatic Sea and tourist numbers are down allowing for lower lodging costs and more authentic experience of the country. Also, if you visit in September, you'll be arriving at the beginning of the white truffle season which means ample opportunities to taste the rare white truffle.
Best Places to Travel in October 2020
Asheville, North Carolina
Recommended by Christina Riley of NC Tripping
Asheville is nestled in the Blue Ridge Mountains of Western North Carolina and is a well-known foodie and outdoor destination. With thousands of trails to hike and the fall foliage peaking, many visitors run to Asheville during October to catch the changing of the seasons.
Lace-up your hiking boots and head out on the trails for the best views of the magnificent reds, yellows, and oranges. If hiking isn't your hobby, the Blue Ridge Parkway also has stunning vista and stops, so keep your camera ready!
If you're a beer lover, then Asheville is definitely the place for you! Highlighted by Travel + Leisure and CNN as one of the best beer cities in the US, Asheville has 30+ breweries for you to sip through. If you're short on time, check out Asheville's own Oktoberfest for some local brews.
Malawi
Malawi is a landlocked country in Southeastern Africa. The country is nicknamed the "warm heart of Africa", and it's easy to see why once you get there and meet the locals. If you're looking for the best destinations to visit in October 2020, Malawi should be on your list.
October is the perfect time to visit Malawi because it's during the dry season when there is virtually no rain. Temperatures are between 25 to 37ºC during the day and around 20ºC at night, which is perfect for watching Malawi's amazing sunsets and viewing Africa wildlife.
October is a great time to visit Lake Malawi, which is the hub of tourism in the country. Lake Malawi is one of the largest lakes in the world and has ample opportunities for outdoor recreation including swimming, kayaking, SUP, and diving/snorkeling to see the many colorful cichlid fish.
Nepal
Recommended by Michelle Della Giovanna of Full Time Explorer
October is considered peak season in Nepal and for good reason. Nepal is famous for its high altitude trekking in the Himalaya mountains, and October is the perfect month to trek there due to its clear skies and little rain or snowfall. People from all over the world attempt to summit mountains throughout the country. Those of us not looking for an extreme expedition can enjoy the beauty of trekking at 4,000-5,000m along stunning routes including the famous Everest Base Camp Trek and Annapurna Circuit.
October in Nepal isn't just about being out in nature and walking for miles, it's also known as the festival season in the country. Two of the most popular festivals are Dashain (a 15-day Hindu festival) and Tihar (a 5-day festival which includes a day to celebrate dogs). October is truly the best time to visit the country whether you want a cultural experience or the adventure of a lifetime!
Best Places to Travel in November 2020
The United Arab Emirates
Recommended by Kay of The Awkward Traveler
The United Arab Emirates, or the UAE for short, is the perfect destination to visit in November. For one thing, that's basically when all of the fun outdoor winter activities open up for the season! The UAE can be, for lack of better words, pretty unbearable outside in the summer, so once the cooler months roll around, that's when the activities begin!
The three-time Guinness World Record holding Dubai Miracle Gardens opens the season by announcing it's blooming buds across the desert. Local residents take to the beaches and parks to have picnics and dine on the beautiful restaurant patios. You can play all day in the desert without broiling your insides, but there is still enough sunlight for a great sunset picture. Pool parties pop off at the numerous rooftop day bars, and the entire city stops for an extravagant brunch on Fridays! It doesn't get much better than that!
Philippines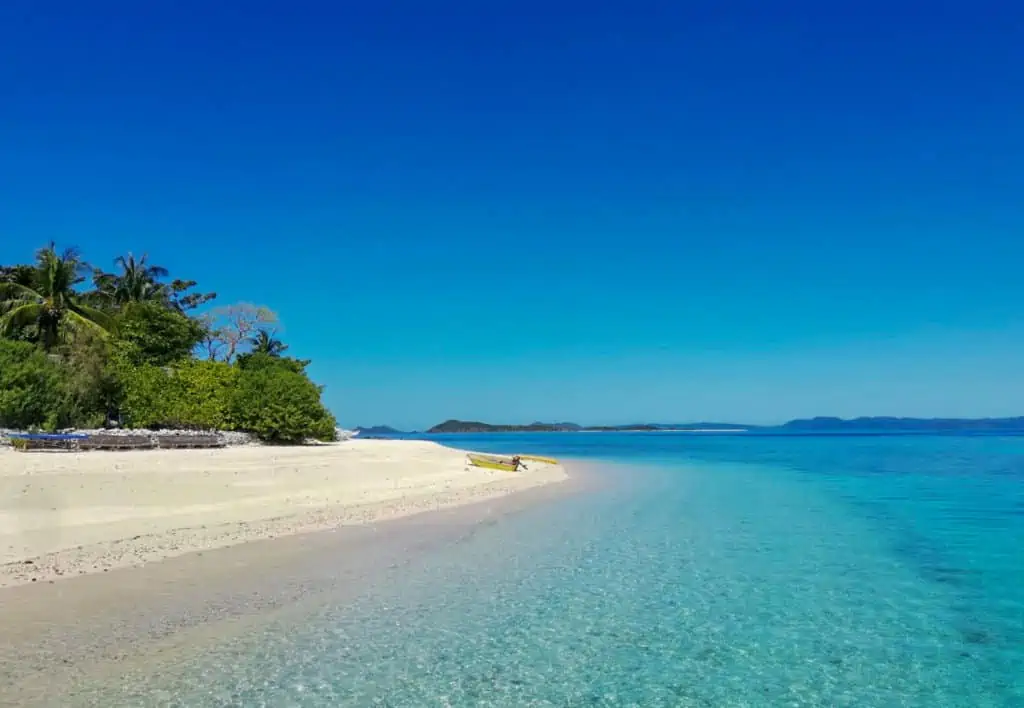 The Philippines are one of the best places to travel in November 2020 as it coincides with the start of the countries dry season. During that time, you are almost guaranteed sunshine and warm weather, which is perfect for enjoying the countries' amazing beaches and tropical waters.
With over 8000 islands, there's no shortage of coastline to explore in the Philippines. One of my favorite trips I've ever taken was a TAO island-hopping expedition across the remote islands of Palawan. If you don't have the time for a multi-day trip, there are still plenty of day trip island-hopping opportunities from El Nido and Coron, two beautiful towns in Palawan.
November is also when the whale sharks start to arrive in the Donsol, Philippines, making it a perfect destination for divers and snorkelers!
Best Places to Visit in December 2020
New York City, United States
Recommended by James Ian of Travel Collecting
December is my favorite month in New York City (and I live here). The weather is cold, but New York City is a magical place to spend the holidays. Most of the parks and institutions have enormous real Christmas trees. Don't miss the main tree in Rockefeller Center, topped with an enormous crystal star with the iconic ice skating rink at its base; the tree at the Met with candles, angels and a historic crèche; and the origami animal-covered tree at the Museum of Natural History.
Take a walk to see all of the department store windows decorated for the holidays and shop till you drop at the holiday markets in Union Square, Bryant Park and Grand Central Terminal. It is not all about Christmas, however. There are also wonderful festivals of light on Staten Island (the Winter Lantern Festival) and Randall's Island (the LuminoCity Festival). Both of them have acres of parkland covered in fantastical displays light art sculptures and tableaux. NYC always has plenty to see and do, but in December, there are so many extra things for the holidays that you will want to go back every year!
Alaska, United States
Recommended by Louisa Moje of La Passion Voutee
Visiting Alaska, specifically Fairbanks and North Pole, is undeniably one of the best destinations to visit in December. There are many unique things to see and do in the area and lots to offer adventure seekers.
You do not have to travel internationally to Iceland or Norway to be immersed in the beauty of the Northern Lights. Matter of fact, a three-night vacation in winter wonderland increases your chances, up to 90% of seeing the aurora borealis.
And when you're done enjoying this wonder, check Santa's residence at Santaland where you'll see a supersized sculpture of Santa, load up on unique holiday gifts, and snap a photo with real-life Santa and Mrs. Claus. Next, explore the history of Fairbanks at Pioneer Park and Morris Thompson Cultural Center, then cool off warm-up at Chena Hot Springs. These are just a handful of unique things to do in Alaska!
Sri Lanka
Recommended by Jacs of Flashpacking Family
Sri Lanka is a great destination to visit in December if you're seeking warmth, with temperatures around the high 20s in the south of the island. The Sri Lankan beaches are some of the best in the world and the main reason people come to Sri Lanka, but you'll find so much more to do there including safaris, visiting ancient ruins and tea tasting in the hill country.
The Sri Lankan food is out of this world but if you're going to be there over Christmas and fancy something more traditional on Christmas Day, we highly recommend visiting the beautiful Amangalla in Galle, although make sure to book in advance.
Whatever you're going to Sri Lanka for, you'll be guaranteed a friendly reception from some of the loveliest people.
Big thanks to all the bloggers who helped contribute to this post, I now have even more places added to my never-ending bucket list!
I hope this post could help inspire some of your travels for 2020. Let me know in the comments below where you plan to travel this year!
Love it? Pin it for later!